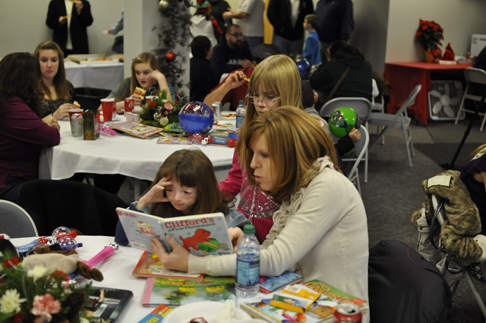 Pat Barcas photo
All centerpieces and party favors, including all children's books at each table,
were to be taken home by the families after the party as gifts.
By Pat Barcas
Staff Writer

CHICAGO RIDGE — The members of the International Union of Elevator Constructors Local 2 in Chicago Ridge certainly know what it's like to fall on hard times. They, like all local trades, have been affected by the poor economy, with about 270 of their 1,500 members currently unemployed.
That doesn't mean the families of unemployed members don't get to have a nice Christmas, though.
For the second year in a row, more than 60 families attended the Elevator Constructors Christmas party Saturday. Upon arrival, all children under 16 received two wrapped gifts, and the families received a bag of gift cards for local businesses. When they left, they also took home a 20 pound turkey to cook for Christmas dinner.
There was no lack of Christmas spirit at the party. Music was pumped through speakers, pizza and a full buffet was served, Santa was in attendance taking pictures with the children, and, for a day, everyone got to kick back and just enjoy the holidays.
"We really appreciate it. Our grandson looks forward to the party and he really appreciates it too," said Edwin Rivera of Chicago, who was laid off two years ago. "It's a warm feeling that they do this for our family. It's really great."
John Valone, president of International Union of Elevator Constructors Local 2, described the event as "labor taking care of labor."
"This is solely for the children of the unemployed. The membership comes out big and donates, it's pretty incredible. Our membership votes to donate enough money to make this happen, and we have more than 20 members here today volunteering," said Valone.
Among crucial sponsorship of the event is the Toy Box Connection in Orland Park, who donated the toys, and the law firm of James M. Ridge and Associates of Chicago, who donated 115 turkeys to be given away.
"The Toy Box helps everybody, not just us," said Valone. "If there are children in need, they are there."
There is light at the end of the tunnel in terms of the poor economy. Local 2 business manager Frank Christensen said he has seen an upturn in employment numbers, but the winter is a tough time in terms of furloughs and layoffs.
"I have seen people getting off the bench in the summer, but then work slows back down in the winter and they're out of work again," he said. "But it's getting better. Let's hope it gets better."
Other sponsors included Jenny's Steak House of Chicago Ridge, the law offices of Kevin O'Brien, and the law offices of Romanucci and Blandon.
Pat Barcas' e-mail address is pat@foxvalleylabornews.com.